Single Trip
Annual Multi Trip
Papua New Guinea Travel Insurance
Extras
Compare and save on Papua New Guinea travel insurance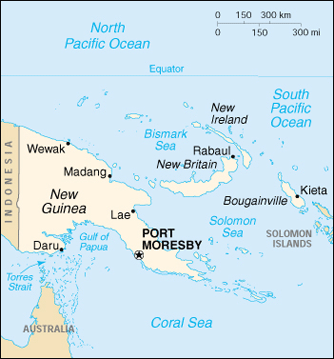 Background Information
Lies just below the equator is a tropical country, the main island has a mountain range running down its spine with peaks up to 15,000 feet.
Many smaller tropical islands surround the mainland the largest of these being New Britain and New Ireland. The people of Papua New Guinea are Melanesian coupled with a large expatriate community.
Travel is mainly by way of air, but there is the main highway from Lae on the north coast to the central highlands.The geography and flora can be quite spectacular. Diving is very popular with an abundance of coral reefs and wartime relics. Kavieng on New Ireland is quite famous for the diving on offer.
There are many small towns on the coast and within the highlands that offer a variety things to do. For the avid golfer, the Lae Golf course is spectacular and should not be missed. Like many developing countries personal security can be an issue and reasonable care should be taken.
The main towns are Port Moresby, Lae and Madang. Madang is a beautiful tropical coastal town located on the north coast of the mainland.
Nearby countries to Papua New Guinea
Brunei travel insurance
Vietnam travel insurance
China travel insurance
Thailand travel insurance
Philippines travel insurance
Burma travel insurance
Laos travel insurance
Singapore travel insurance
Indonesia travel insurance
Demographics for Papua New Guinea
| | |
| --- | --- |
| Language: | English, Pidgin, Hiri Motu |
| Area: | 462,840 sq. km |
| Population: | 5,190,000 |
| Capital City: | Port Moresby |
| ± GMT: | +10 hour |

More information and travel advice about Papua New Guinea
Papua New Guinea Geography
Papua New Guinea Climate
Papua New Guinea Attractions
Papua New Guinea Activities
Papua New Guinea History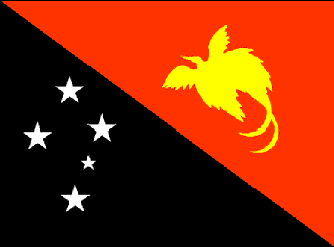 Papua New Guinea Information and Advice from Smart Traveller
Exercise a high degree of caution in Papua New Guinea because of the high levels of serious crime.
Pay close attention to your personal security at all times and monitor the media for information about possible new safety or security risks.
Crime rates are high in the capital Port Moresby and in other areas of Papua New Guinea, especially in Lae, Mt Hagen and other parts of the Highland provinces.
There have been a small number of high-profile kidnappings for ransom.
Local land and compensation disputes occasionally lead to threats by landowners to close the Kokoda Track. When walking the Kokoda Track, Australians are advised to travel only with guides from reputable trekking companies.
*Please use information as a guide and always check Smart Traveller for the most up to date information.
Note: Remember to register with Smart Traveller before travelling overseas
Australian Consulate Papua New Guinea
Address
Godwit Road (Waigani)
Port Moresby NCD
Papua New Guinea
Telephone +675 325 9333 (24 Hours)
Fax +675 325 9239
Papua New Guinea travel insurance information
The Australian government and Smart Traveller recommend appropriate insurance information if you are travelling overseas and to ensure that you are properly covered with comprehensive travel insurance.
The cost of medical, dental and let alone the inconvenience of the lost luggage can ruin your holiday.
Useful Links
Travel Insurance
QBE Travel Insurance
Seniors Travel Insurance
Compare Travel Insurance
Cruise Travel Insurance
Travel Insurance Online
Pregnancy Travel Insurance
Annual Multi-Trip Travel Insurance
Single Trip
Annual Multi Trip