Travel Insurance Cancellation Cover
Travel Insurance Saver (TIS) understands that sometimes unavoidable events occur which may prevent you from being able to partake in your travels, continue travelling while abroad or inside Australia, or need to postpone your trip for a while.
All international policies include cancellation cover for flights, accommodation, tours, cruises and any other prepaid purchase that you have made – like tickets for sporting events. Get a quote online today to compare and save on cancellation travel insurance.
Extras
Some of the cancellation cover benefits offered are;
Covers your pre-paid purchases for your trip, such as;

Flights, Accommodation, Car Hire, Cruises, Tours.

Your cancellation cover starts from the day you purchase your policy.
The earlier you purchase your policy, the the earlier your cancellation cover is active.
Having to cancel your trip to due to sudden illness or injury to yourself or relative under the age of 80 years with no previous existing medical condition
What's covered?
You'll be covered for cancellation if you're unable to begin your trip because of but not limited to:
The death, injury or illness of a travelling member of your party.
Your passport or travel documentation becomes lost, damaged or stolen.
A member of your travelling party is forced to sit supplementary exams (if they're a full-time student)
Your pre-arranged leave is cancelled by your employer.
The financial default of airlines, hotels and resort operators.
There are many more cancellation situations covered by your travel insurance policy which can be viewed in the product disclosure statement once you have processed a quote.

War
A loss caused by, or in any way connected with war, invasion, hostilities (whether war is declared or not), civil war, rebellion, revolution, military or usurped power or civil insurrection isn't included under cancellation cover.


General Exclusions & Helpful Hints
Terrorism
No cancellation cover applies in the case of terrorism. Medical and medical evacuation is included in the case of terrorism.
For further information, please refer to the product disclosure statement that can be found after getting a quote from this page and clicking on 'PDS' under the quoted price. Alternatively, please contact our helpful staff members, and we can assist with any further questions.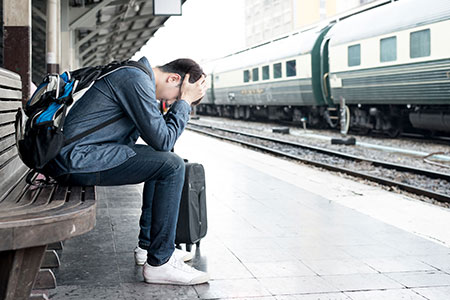 Tips
Cancellations are usually unavoidable, we all want to go on our holiday, but extreme circumstances get in the way and we're forced to end our trip before it begun, cut it short, or postpone it.
Before credit cards people used to be able to cancel their reservations without too much hassle, those days are long in the past now. You usually can't get away without paying some sort fee if you decide to cancel your hotel reservation on the day of check-in. If you should need to, here are some ways to get around paying the full fee.
Hilton and Marriott have introduced policies where guests must cancel a full day in advance.
Some resorts have made even stricter policies which require guests to cancel up to a full week in advance
Avoid dodgy providers that have harsh cancellation rules and/or bad reviews when past customers have tried to cancel.
Of course, if you're insured and anything goes wrong, you'll be covered up to the cancellation amount listed in your policy – so not to worry. Any questions about cancellation insurance? Please feel free to
contact us
.
Contact Travel Insurance Saver
If you have any questions please fill in the form below and one of our friendly team members will get in touch soon