Cruise Travel Insurance
Cruise travel insurance is automatically included in all international and domestic policies.
Having professional and experienced emergency assistance can be vital if you suffer a severe injury or illness while abroad. Many
travel insurance
providers outsource their emergency assistance, leaving customers to deal with staff from a third-party company in their time of need.
Extras
Getting the right cruise travel insurance to fit your travel needs is essential. With Travel Insurance Saver you and your family are protected by a company that offers excellent benefits on;
Overseas medical cover
Medical Evacuation is included in all international policies.
Comprehensive additional expenses
Cancellation Cover
Dependent children are cover for free, age limits apply
24/7 Emergency Assistance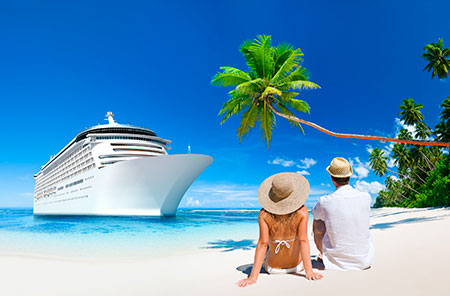 Tourism Australia states that over 8 million Australians went overseas for their holidays last year.
The most popular reason for Australians to travel overseas on holiday was (54%), visiting friends and relatives (24%) and business (21%).
Over 330,000 Australians chose to take a cruise holiday. A sharp 26% rise compared to the previous year. More and more Australians are choosing to take a cruise as their preferred mode of a holiday and why not, it's a great way to see the world.
Cruise travel insurance can be included in package bookings, but travellers should make sure they book their cruise travel insurance with a trustworthy provider should it not be provided.
An estimated one-third of Australian residents travel overseas without global travel insurance in the hope that nothing is going to happen to them. A simple infection, an unexpected accident, eating the wrong food – all this could lead to unexpected medical bills. Medical only travel insurance is essentials as a minimum. All of the international policies include Unlimited medical and dental.
Imagine the cost of a medical evacuation from a remote area to Australia because the traveller did not take out travel insurance; these costs can be in the tens or hundreds of thousands of dollars. Taking out the right worldwide travel insurance might save you and your family from having to take out a mortgage on your house or seeking other sources of funds to cover those costs.
A lot of cruise companies now require people to have some form of travel insurance before they board the ship. That's because they know medical service on ships can be costly, especially if the person needs to be transported to the mainland. Don't be caught out, make sure you insure yourself for your cruise today.
Useful Links
Domestic travel insurance
Budget travel insurance
Comprehensive travel insurance
Backpacker travel insurance
Contact Travel Insurance Saver
If you have any questions please fill in the form below and one of our friendly team members will get in touch soon