Single Trip
Annual Multi Trip
nib Travel Insurance Quote
Extras
Getting An Online Travel Insurance Quote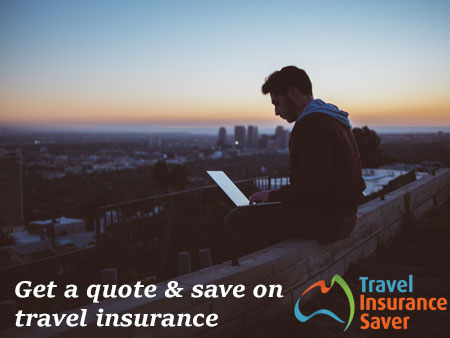 It is wise to start your search for Travel Insurance with a quote. You want to ensure that your
travel insurance
policy will cover you for excessive expenses that may suddenly result when misfortune strikes while you are travelling. The costs and coverage of travel insurance will vary from policy to policy. You should take utmost care to check the benefit limits and read the policy wording to make sure that you the right policy for your travel needs.
When you're looking for the right online travel insurance quote make sure that
24/7 emergency assistance
is provided, check who the underwriter is, and that medical evacuation is included in the policy.
The quotes must encompass benefits that fit your needs, the kind of coverage you need to feel safe and secure while travelling. Also, the duration of the trip and the price for everything you interested in. Make sure that the policy you purchase is relevant to the type of trip your taking, so you're not slapped with too many unnecessary extras. If you're unsure about this please contact our friendly staff to assist with any questions you have.

The internet has made it a lot easier to apply for, receive and evaluate Travel Insurance quotes. Within seconds you can get a quote and within minutes you can compare multiple quotes via this website to find the right policy for your travel needs. You will have a fair idea of what price and coverage you are looking for. There are a lot of providers online offering similar looking products but dig deeper and you may find that similar products offer very different coverage. Give your prospective providers a call on the phone, if they're happy to help you out that's usually a good sign of things to come.
Ideally you should be able to receive a comprehensive Travel Insurance policy for a low cost.
Travel Insurance Quote
Travel Insurance Saver through nib specialises in a range of Travel Insurance quotes for backpackers to seniors offering great rates on budget and comprehensive travel insurancepolicies for Australian residents.
Get A Quote
Enter your travel destinations, travel dates, age, and any optional extras in the quote panel to view all policies available for your next trip away.
Travel Destination Defined
Travel Destinations means the countries that you will be spending time in.

How are quotes and policies displayed?
Use our online quoting panel on this page for an obligation-free Travel Insurance quote. Complete a quote to view the top policies and compare the benefits side by side.
When you apply for Travel Insurance online, you will save on all policies. Your discount will automatically be applied at checkout.
Disclaimer
Insurance Saver Pty Ltd, ABN 18624 919 366, AR 1263726 (Travel Insurance Saver), is an authorised representative of nib Travel Services (Australia) Pty Ltd (nib), ABN 81 115 932 173, AFSL No 308461. Any information provided is general only and you should consider if this product suits your needs. Before deciding to purchase this product, please read the Product Disclosure Statement available from us. This insurance is underwritten by XL Insurance Company SE, Australia branch (ABN 36 083 570 441).
For further information and to decide if the product is right for you, please read the Product Disclosure Statement once you have got a quote.
Single Trip
Annual Multi Trip