Indonesia Travel Insurance
Extras
Travel Insurance For Long Haul Traveling in Indonesia.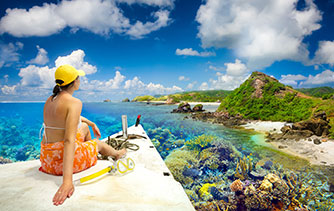 No matter whether you're on a business trip, vacation or just a regular trip we have a travel insurance for your next trip to Indonesia.
Travel insurance is said to be an insurance product offered to the public who travel overseas, both in Indonesia and worldwide, for business purposes, tourism or just a regular trip.
So as to travel, we deal with a number of risks. It might be you or a family member suddenly falling sick or suffered injuries in an accident. For that, it is recommended that before any trip, especially a long trip, you should take out an appropriate travel insurance policy that will fit your travel needs. It is more beneficial than not buying at all and the earlier you purchase the earlier your cancellation cover will kick in.
Secure travel insurance to Indonesia today - Get a Quote
A wide range of travel insurance products offered by insurance companies provides various benefits. Hence, premiums and policies offered are also diverse. There are numerous insurance companies providing security to travel globally, but certain insurance companies cover Indonesia area only. When you select the Country Most Time Spent as Indonesia, this will also cover you if you are travelling to other countries in Asia, Europe or Africa. Just remember to select the country that you will be spending the most amount of time in and check that you are or aren't travelling in the USA, Canada or South & Central America for more than 72 hours. If you have any questions about the destination please feel free to contact us.
When you travelling it is imperative to get quality travel insurance that provides security when something goes wrong on the way and you are required to stop in another country. The more coverage offered, the better for policyholders.
Travel insurance products not only deliver security and protection to its customers with respect to personal accident but also for medical expenses as well as third-party insurance coverage law.
Compare and save on Indonesia travel insurance
Demographics
Language: Indonesian, English
Area: 1,899,685.42 sq. km
Population: 203,456,005
Capital City: Jakarta
± GMT: +7, +8 and +9
Nearby countries to Indonesia
Thailand travel insurance
Papua New Guinea travel insurance
Laos travel insurance
Burma travel insurance
Philippines travel insurance
Vietnam travel insurance
Cambodia travel insurance
Indonesia information
Indonesian Geography
Indonesian Climate
Indonesian Attractions
Indonesian Activities
Indonesian History
Indonesian Advice
*Please use information as a guide and always check Smart Traveller for the most up to date information.
Note: Remember to register with Smart Traveller before travelling overseas.
Australian Consulate in Medan, Indonesia
Address
Australia Centre
Jalan R.A. Kartini No. 32
Medan 21152
Indonesia
Telephone
+62 61 415 7810, +62 61 455 4520
Fax
+62 61 415 6820
Australian Embassy, Indonesia
Address
Jalan H.R. Rasuna Said Kav C 15-16
Jakarta Selatan 12940
Indonesia
Telephone
+62 21 2550 5555
Fax
+62 21 522 7101, 2550 5467
Australian Consulate-General in Bali,
Address
Jalan Tantular, No. 32,
Renon,
Denpasar,
Bali 80234
Indonesia
Telephone
+62 361 241 118
Fax
+62 361 221 195
Indonesia travel insurance guide
The Australian government and Smart Traveller recommend appropriate insurance information if you are travelling overseas and to ensure that you are properly covered with comprehensive travel insurance.
The cost of medical, dental and let alone the inconvenience of the lost luggage can ruin your holiday.
Useful Links
Travel Insurance
QBE Travel Insurance
Discount Travel Insurance
Group Travel Insurance
Philippines Travel Insurance
Singapore Travel Insurance
Comprehensive Travel Insurance
Seniors Travel Insurance