Single Trip
Annual Multi Trip
Indonesia Travel Insurance
Extras
Travel Insurance For Long Haul Traveling in Indonesia Indonesia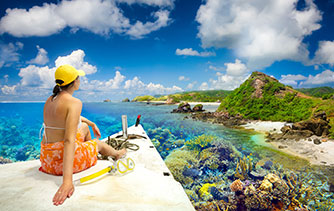 Indonesia is an archipelago of islands in south-east Asia. It has one of the highest populations of any country in the world and is totally unique. No matter what your mission, whether it be a solo business trip to Jakarta for the weekend, a trip with the family to Bali, or a few months in the Sulawesi archipelago – we have you covered.
Travel insurance is an affordable way to ensure that no matter what happens while you're overseas, you'll be looked after financially. It's a way to ensure that you can travel with peace of mind, without having to worry about things going wrong. When travelling to countries like Indonesia, we highly recommend you insure yourself.
You need to purchase travel insurance before your depart but it is advised to purchase as earlier as possible as you will benefit from the cancellation cover starting from your purchase date. This covers you for any pre-paid bookings that you have made and if any natural disasters occur. Also, you'll be fully covered for medical by the time you arrive and it is one less thing to worry about before heading away to Indonesia. If you fall ill or get injured overseas, hospital costs and emergency evacuation can range in the tens of thousands. It's a no-brainer to insure yourself. The longer the trip, the more likely you are to need some kind of insurance. You should take out a travel insurance policy that meets your specific needs. The earlier you purchase your insurance, the earlier your cancellation cover will become active.
Secure travel insurance to Indonesia today - Get a Quote
Indonesia is a traveller's paradise. It is an exotic grouping of tropical islands, contrasted by huge metropolises and unique rural communities. There are countless languages, ethnicities and faiths, speckled in the warm oceans north-west of Australia. There are a few main islands in Indonesia where the majority of the populations reside.
It is easy to get lost in Indonesia; the food is delicious, and the people are incredibly friendly. Australian's have made Bali a home away from home, and people frequently voyage to this seaside delight. It is recommended you always travel with a degree of caution in Indonesia, there are stark cultural differences which often times people fail to adhere to. There is also the risk of petty theft and robbery, and in more serious cases, terrorist-related activities. It's recommended you detour from the western-Papua province of Indonesia, and if you do travel there, exercise a high degree of vigilance. When travelling anywhere overseas it's always recommended you have travel insurance; whether it's losing a bag at the airport, your wallet on the sidewalk, or falling from an old motorcycle on a Balinese highway – you will feel better if you're insured.
There are many different insurance products available online – premiums and policies are highly diverse. Some insurance companies restrict the coverage of their policies to the country of Indonesia only; however, with our policy, if you select your country most spent time in as Indonesia, you'll also be covered for other countries in Asia, Europe and Africa. Remember to select the country that you will be spending the most time in, if you're spending more than 72 hours in North or South America you will need a different policy. If you have any questions please feel free to contact us.
When travelling overseas it is imperative you receive quality travel insurance specifically for you and your trip We offer a personalized travel insurance service, so you'll feel safe knowing that if anything goes wrong, we'll have you covered. Travel insurance provides much-needed security and protection will travelling overseas, it is priceless peace of mind. You'll be covered for medical evacuation, medical expenses, loss of luggage and personal liability.
Compare and save on Indonesia travel insurance
Demographics
| | |
| --- | --- |
| Language: | Indonesian, English |
| Area: | 1, 899, 685 sq. miles |
| Capital City: | 264 million |
| Population: | Jakarta |
| ± GMT: | +7, +8 and +9 hours |
Nearby countries to Indonesia
Thailand travel insurance
Papua New Guinea travel insurance
Laos travel insurance
Burma travel insurance
Philippines travel insurance
Vietnam travel insurance
Cambodia travel insurance
Indonesia information
Indonesian Geography
Indonesian Climate
Indonesian Attractions
Indonesian Activities
Indonesian History
Indonesian Advice
*Please use information as a guide and always check Smart Traveller for the most up to date information.
Note: Remember to register with Smart Traveller before travelling overseas.
Australian Consulate in Medan, Indonesia
Address
Australia Centre
Jalan R.A. Kartini No. 32
Medan 21152
Indonesia
Telephone
+62 61 415 7810, +62 61 455 4520
Fax
+62 61 415 6820
Australian Embassy, Indonesia
Address
Jalan H.R. Rasuna Said Kav C 15-16
Jakarta Selatan 12940
Indonesia
Telephone
+62 21 2550 5555
Fax
+62 21 522 7101, 2550 5467
Australian Consulate-General in Bali,
Address
Jalan Tantular, No. 32,
Renon,
Denpasar,
Bali 80234
Indonesia
Telephone
+62 361 241 118
Fax
+62 361 221 195
Indonesia travel insurance guide
The Australian government and Smart Traveller recommend appropriate insurance information if you are travelling overseas and to ensure that you are properly covered with comprehensive travel insurance.
The cost of medical, dental and let alone the inconvenience of the lost luggage can ruin your holiday.
Useful Links
Travel Insurance
QBE Travel Insurance
Discount Travel Insurance
Group Travel Insurance
Philippines Travel Insurance
Singapore Travel Insurance
Comprehensive Travel Insurance
Seniors Travel Insurance
Single Trip
Annual Multi Trip