Single Trip
Annual Multi Trip
Extras
Compare and save on China travel insurance
Western hospital in China are now chargin similarly to those in the USA. This means that if you are injured or ill, you could face thoughsnad of dollars in unexpected medical fees. Smart Traveller states "if you can't afford travel insurance, you can't afford to travel.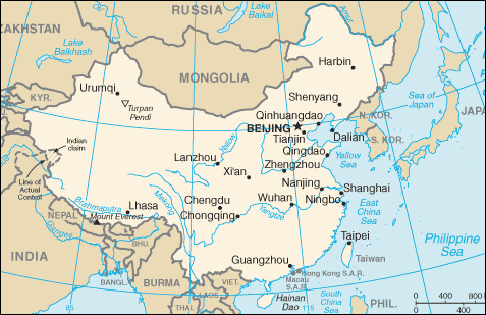 China demographics
| | |
| --- | --- |
| Language: | Mandarin, Cantonese, Xiang, Min, HakkaLand |
| Area: | 9,600,000 sq km |
| Population: | 1.386 billion |
| Capital City: | Beijing |
| ± GMT: | +8 Hrs |

Cover for nearby countries
Russia travel insurance
Mongolia travel insurance
Japan travel insurance
Thailand travel insurance
Philippines travel insurance
Kazakhstan travel insurance
India travel insurance
Burma travel insurance
Laos travel insurance
Vietnam travel insurance
Singapore travel insurance
Indonesia travel insurance
The sheer size of both country and its population make the experience unimaginable to the first time visitor. From the non-stop pace of its cities to the solitude of an isolated Tibetan village.
Experience the past of the Ming Dynasty, the Great Wall of China. Wonder at the development since China opened its doors to the west. Reflect on the adventures of Marco Polo tripping to this ancient land.
China information and Advice from Smart Traveller
Risk of terrorism, civil unrest, crime and natural disasters.
Pay close attention to your personal security and monitor the media for information about possible new safety or security threats.
Avoid all demonstrations and protests as they may turn violent. Exercise a high degree of caution if travelling to Tibet. You should not attempt to travel to Tibet without permission from the Chinese authorities.
Exercise a high degree of caution if travelling to Xinjiang Province (or "Xinjiang Uighur Autonomous Region") due to it's volatile security situation and heightened ethnic tensions. On 5 July 2009, violent protests resulted in a large number of deaths and injuries in Urumqi, capital of Xinjiang Province.
You should avoid any protests or large gatherings. A number of bombings have also occurred in Xinjiang Province.
The Chinese authorities have put in place more stringent requirements for visa issue. You should check with the nearest Embassy or Consulate of China for detailed information well in advance of your intended travel date.
The World Health Organization has confirmed human deaths from avian influenza in China.
*Please use information as a guide and always check Smart Traveller for the most up to date information.
Note: Remember to register with Smart Traveller before travelling overseas
Australian Embassy / Consular representation
Address
21 Dongzhimenwai Dajie
Sanlitun
Beijing 100600
People's Republic of China
Telephone +86 10 5140 4111
Fax +86 10 5140 4204
The Australian government and Smart Traveller recommend appropriate insurance information if you are travelling overseas and to ensure that you are properly covered with comprehensive travel insurance. The cost of medical, dental and let alone the inconvenience of the lost luggage can ruin your holiday.
Useful Links
Travel Insurance
QBE Travel Insurance
Travel Insurance Australia
Bali Travel Insurance
USA Travel Insurance
International Travel Insurance
Worldwide Travel Insurance
Overseas Travel Insurance
Single Trip
Annual Multi Trip