Single Trip
Annual Multi Trip
New Zealand Travel Insurance
Extras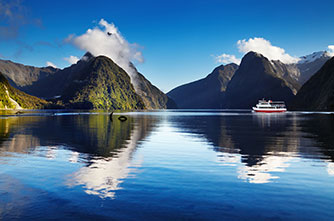 Planning a trip to New Zealand and you're hunting for travel insurance? Travel Insurance Saver offers a variety of policies that will be perfect for your holiday. Whether it be a cruise or a hiking expedition, we can provide competitive coverage for your trip.
Some holidays will have people looking at things from the relative safety of the sidewalk; however, if you're travelling to New Zealand, chances are you'll be immersing yourself in the great outdoors. New Zealand is one of the most beautiful, and one of the most travelled to countries on earth. Famous as the filming location of The Lord of the Rings, New Zealand can often times feel as if it's a landscape taken from a fantasy realm.
New Zealand offers hikes across many of its famous foothills and mountains, rafting down rivers and rapids, horse riding through great plains, and much more. A good idea of what you may do if you head over is the 2 – 4-day hiking expedition on the Routeburn Track in the South Island. This track has it all, and you can start and stop at various locations along the path. There are strenuous sections and more difficult, mountainous sections. This is one example of what you might be doing Aotearoa, and one reason you will want to purchase a travel insurance policy from a reliable provider.
There are a number of travel insurance policies available to you should you decide you want to travel to insurance. There is a lot of variety on the internet, but it's important you look for some simple things when you shop around. For instance, you'll want to make sure your provider gives you a toll-free 24/7 emergency contact number, should you need to make a claim or receive assistance. This will be particularly necessary if you're going to be taking part in outdoor activities, as you will most likely be doing in some form in Aotearoa.
Even if you purchase a 'sports type' travel insurance package, you'll still need to double check you are not being left open by your provider. A lot of sports travel insurance packages still exclude some sporting activities that people will intend to take part in, in a country like New Zealand.
All policies have the following activities are general exclusions;
Hunts, plays polo, races (except on foot), mountaineers using support ropes, paraglides, rock climbs, abseils, participates in base jumping, running with the bulls, or potholing (caving).
We provide altitude travel insurance which has no limit on height, so if you find yourself in trouble at the top of Aoraki / Mount Cook at 3700m, never fear, you'll still be able to be evacuated off the mountain.
All policies have no altitude limits when it comes to trekking and hiking, so you covered to tackle Routeburn or Mount Cook.
Travel Insurance Saver offers travel insurance and an easy quotation wizard to cover your trip. This quote bar is located at the top of every page on our website, simply enter the details of your trip and hit 'Get a travel insurance quote', you will be met with a number of different quotes which you will be able to choose and compare from.
Compare and save on New Zealand travel insurance
Background Information
New Zealand is an island country located in the south-western Pacific Ocean, around 2000 km from the eastern coast of Australia. A flight from Sydney to Auckland generally takes around three hours. New Zealand is comprised of two main islands, the North Island, named Te Ika-a-Maui, of which the island capital is Auckland, the most populous city in New Zealand. The South Island, also known as Te Waipounamu, is the world's twelfth largest island, and its capital is Christchurch.
New Zealand is a large set of islands, it's total land area is just under 270,000 square kilometres, which is slightly larger than the total land area of the United Kingdom. There are numerous smaller islands around the two main ones, they are Waiheke Island, Stewart Island and the Chatham Islands.
Countries nearby New Zealand
Kiribati travel insurance
French Polynesia travel insurance
New Caledonia travel insurance
American Samoa travel insurance
Papua New Guinea travel insurance
Hawaii travel insurance
Philippines travel insurance
Demographics
New Zealand has a population of around 4.794 million people, 74% of which identify with mixed-European ethnic groups.
New Zealand has a population of about 4.794 million, of which approximately 78% identify with European ethnic groups. New Zealanders of European descent are generally referred to as Pākehā, this term can be used for non-European New Zealanders as well who aren't Maori. Asian peoples make up around 11% of the New Zealand population, and Pacific peoples make up around 7%. Maori's, the indigenous people of New Zealand, make up around 15% of the population.
The majority of European New Zealanders are of Irish and British ancestry, though many are also Italian, Dalmatian, Dutch, and German, who immigrated largely during the 20th century. There's also been a lot of European immigration through Australia, the Americas and South Africa.
| | |
| --- | --- |
| Language: | English, Maori |
| Area: | 268,680 sq kms |
| Population: | 4,794,000 |
| Capital City: | Wellington |
| ± GMT: | +12 hours |


New Zealand information
New Zealand Geography
New Zealand Climate
New Zealand Attractions
New Zealand Activities
New Zealand History
Smart Traveller New Zealand
Be alert to your own security in New Zealand.
Exercise common sense and look out for suspicious behaviour, as you would in Australia.
*Please use information as a guide and always check Smart Traveller for the most up to date information.
Note: Remember to register with Smart Traveller before travelling overseas.
Australian High Commission New Zealand
Address
72-76 Hobson Street
Thorndon
Wellington
New Zealand
Telephone: +64 4 473 6411
Fax: +64 4 498 7103
Australian Consulate-General in Auckland, New Zealand
Address
Level 7 Price Water House Coopers Tower
186-194 Quay Street
Auckland
New Zealand
Telephone +64 9 9218800
Fax +64 9 9218820
New Zealand travel insurance information
The Australian government and Smart Traveller recommend appropriate insurance information if you are travelling overseas and to ensure that you are properly covered with comprehensive travel insurance.
The cost of medical, dental and let alone the inconvenience of the lost luggage can ruin your holiday.
Useful Links
Travel Insurance
QBE Travel Insurance
Seniors Travel Insurance
Compare Travel Insurance
Best travel insurance
Cruise Travel Insurance
Travel Insurance Quote
Single Trip
Annual Multi Trip