New Zealand Travel Insurance
Extras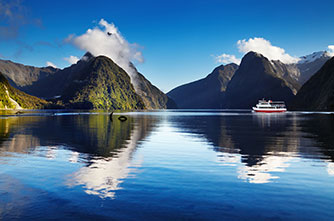 Most people are content to travel to distant places and take in the sights from the relative safety of the sidewalk. While, there are others that need something more thrilling to make their vacation complete, which often means getting involved in activities that arrive with a few added risks. A perfect illustration is the 2-4-day hiking experience that is the Routeburn Track in the South Island of New Zealand. It's a beautiful trekking experience that brings in explorers from all over the world but it can be tough.
Certain people are aware of the need for some sort of travel insurance when they head towards a new country, and very few know that there are different types of insurance available that are actually essential to your holiday plans. The travel insurance vital for a tourist going on a shopping trip to Auckland is completely different from that of the trekker who is about to board trip on the Routeburn Track.
As you can anticipate, the type of travel insurance required to go on that trip is quite a bit wider than other options. Most people commit the mistake of opting for a sports travel insurance package, ignorant that they might still be selling themselves a bit short an accident occurring during the trip.
All policies have general exclusions on the following activities;
Hunts, plays polo, races (except on foot), mountaineers using support ropes, paraglides, rock climbs, abseils, participates in base jumping, running with the bulls, or potholing (caving).
If you decide to make a trek around Routeburn Track, then you must ensure that you buy travel insurance up to 6000m as many insurance claims end up being for injuries and ailments that could simply have been overlooked.
All policies have no altitude limits when it comes to trekking and hiking, so you covered to tackle Routeburn
Insurance is meant to cover you in the event of an injury but is not available to deliver you carte blanche to behave in a manner that would jeopardise yourself and others while travelling.
Travel Insurance Saver offers travel insurance and an easy quotation wizard to cover your trip.
Compare and save on New Zealand travel insurance
Background Information
New Zealand is an island country in the south-western Pacific Ocean comprising two main landmasses (the North Island and the South Island), and numerous smaller islands and the most notably is Stewart Island/Rakiura and the Chatham Islands. The indigenous Māori named New Zealand Aotearoa, commonly translated as The Land of the Long White Cloud.
The total land area, 268,680 square kilometres a little more than the United Kingdom. The country extends more than 1600km along its main, north-north-east axis, with approximately 15,134 km of coastline. The most significant of the smaller inhabited islands include Stewart Island/ Rakiura; Waiheke Island, in Auckland's Hauraki Gulf; Great Barrier Island, east of the Hauraki Gulf; and the Chatham Islands, named Rēkohu by Moriori.
Countries nearby New Zealand
Kiribati travel insurance
French Polynesia travel insurance
New Caledonia travel insurance
American Samoa travel insurance
Papua New Guinea travel insurance
Hawaii travel insurance
Philippines travel insurance
Demographics
New Zealand has a population of about 4.3 million, of which approximately 78% identify with European ethnic groups. New Zealanders of European descent are collectively known as Pākehā; this term generally refers to New Zealanders of European descent but some Māori use it to refer to all non-Māori New Zealanders.
Most European New Zealanders are of British and Irish ancestry, although there has been significant Dutch, Dalmatian, Italian, and German immigration together with indirect European immigration through Australia, North America, South America and South Africa.
Language: English, Maori
Area: 268,680 sq kms
Population: 4,300,000
Capital City: Wellington
± GMT: +12 hours

New Zealand information
New Zealand Geography
New Zealand Climate
New Zealand Attractions
New Zealand Activities
New Zealand History
Smart Traveller New Zealand
Be alert to your own security in New Zealand.
Exercise common sense and look out for suspicious behaviour, as you would in Australia.
*Please use information as a guide and always check Smart Traveller for the most up to date information.
Note: Remember to register with Smart Traveller before travelling overseas.
Australian High Commission New Zealand
Address
72-76 Hobson Street
Thorndon
Wellington
New Zealand
Telephone: +64 4 473 6411
Fax: +64 4 498 7103
Australian Consulate-General in Auckland, New Zealand
Address
Level 7 Price Water House Coopers Tower
186-194 Quay Street
Auckland
New Zealand
Telephone +64 9 9218800
Fax +64 9 9218820
New Zealand travel insurance information
The Australian government and Smart Traveller recommend appropriate insurance information if you are travelling overseas and to ensure that you are properly covered with comprehensive travel insurance.
The cost of medical, dental and let alone the inconvenience of the lost luggage can ruin your holiday.
Useful Links
Travel Insurance
QBE Travel Insurance
Seniors Travel Insurance
Compare Travel Insurance
Best travel insurance
Cruise Travel Insurance
Travel Insurance Quote