Single Trip
Annual Multi Trip
Extras
Compare and save on Belize travel insurance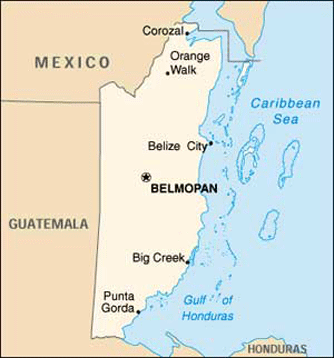 Belize Demographics
Language:
English
Area:
22,965 sq. km
Population:
311,000
Capital City:
Belmopan
± GMT:
-6 hours
Surrounding Countries
Mexico Travel Insurance
Honduras Travel Insurance
Guatemala Travel Insurance
USA Travel Insurance
One of the last remaining unspoiled areas on our planet.
See the ancient Maya sites, the tropical rainforests and the beautiful beaches fronting the Caribbean. The birdlife species are abundant. Don't forget to visit the museums and appreciate the Maya civilization. Expeditions, caving, local culture, beaching Belize has it all.
Belize is English (Kriol), Speaking and an independent state of the Commonwealth (like Australia) with the Queen on the money.
From the border, I took a bus to Belize city, not the capital city, but the country's principal port. It is a small city (nearly 80 000) but it's a fun, colourful, lively place, with small streets and mad ramshackle buildings. It's safe enough, but take care when out sightseeing in the evening.
Belize city is the main entryway to the Cayes (islands) and diving hot spots such as the blue hole and along the Belize barrier reef (the worlds second largest coral reef). I caught a boat out to Caye Caulker, and spent a few days relaxing, and took a trip to the blue hole to dive.
From here I took a three-day sailing trip south along the reef, fishing for barracuda, snorkelling, diving for conch, drinking rum and spending two nights camping on islands with nothing on them other than a few palm trees. The trip terminated at the coastal town of Placencia. The town has some great beaches and snorkelling and diving spots.
Belize
Geography
Belize
Climate
Belize
Attractions
Belize
Activities
Belize
History
Belize information and travel advice from Smart Traveller
Exercise a high degree of caution in Belize because of high levels of serious crime.
Pay close attention to your personal security at all times and monitor the media for information about possible new safety or security risks.
The hurricane season is June to November when landslides, mudslides and flooding may occur. In the case of a hurricane, monitor local media reports and follow the instructions of local emergency officials.
*Please use information as a guide and always check Smart Traveller for the most up to date information.
Note: Remember to register with Smart Traveller before travelling overseas
Australian Embassy, Belize
Australian High Commissioner to Trinidad and Tobago
Address
18 Herbert Street
St Clair
Port of Spain
Trinidad and Tobago
Postal address
PO Box 4640
St James Port of Spain
Telephone +1 (868) 628 0695
Fax +1 (868) 622 0659
Australian Consulate - Belize
18 Herbert Street
St Clair
Port of Spain
Trinidad and Tobago
Telephone +1 (868) 628 0695
Fax +1 (868) 622 0659
Belize travel insurance guide
The Australian government and
Smart Traveller
recommend appropriate insurance information if you are travelling overseas and to ensure that you are properly covered with comprehensive travel insurance. The cost of medical, dental and let alone the inconvenience of the lost luggage can ruin your holiday.
Useful Links
Travel Insurance
QBE Travel Insurance
Seniors Travel Insurance
Compare Travel Insurance
Domestic Travel Insurance
Travel Insurance Online
Pregnancy Travel Insurance
Annual Multi-Trip Travel Insurance
Single Trip
Annual Multi Trip