International Travel Insurance
Why You Must Have an International Travel Insurance Plan when Travelling Abroad
International travel insurance should be the first step on your journey
overseas
. When travelling overseas, we enter into environments that are much different from the ones we are used to. Changes in our basic environment, like being around different languages and cultures, are very exciting, but they can also put us on the backfoot. With all of this new information to take in, we are often-times a little bit stunned, this can range from culture shock i.e. arriving into a country so different to our own that it surprises us, to things that are less-noticeable, like jet lag. Simple things have gone wrong that in our own country are easy to take care of, like a lost phone, become huge hurdles when we're away from our most basic support networks. This is why its imperative to have an international travel insurance policy, especially if we're going to be travelling internationally for an extended period of time.

Loss of valuables and accidental injury can be worrying hassles while we travel overseas. Uninsured medical expenses in foreign hospitals, the financial costs of retrieving a lost passport, or cancelled travel plans, can be very costly. Having international travel insurance while you travel is an easy way to mitigate any unnecessary stress and ensure you're financially looked after should anything go wrong.
There are many different types of international travel insurance packages available, all of them are tailored to suit your individual needs. There are more basic
travel insurance
policies for the
business
person attending a summit or meeting overseas and the more comprehensive package for the budding adventurer looking to climb Machu Pichu.
Five solid reasons to get international travel insurance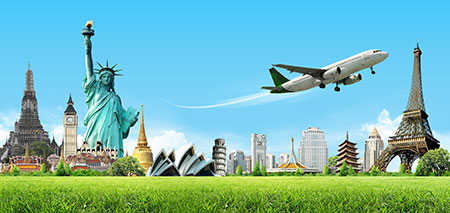 1. Be prepared for the unexpected
We can't predict the future, but we can certainly prepare ourselves for it. Life is unpredictable, especially overseas. The world is a dynamic place and international travel plans and arrangements can change unpredictably. At the very least it is wise to take out a cancellation policy should your trip be interrupted in any way. It seems that when we're not prepared, things tend to go wrong more quickly.
2. Get a comprehensive coverage and travel stress-free
One of the best reasons to purchase travel insurance is the peace of mind it will give you. Not only will you be covered if anything goes wrong, but you'll also be able to relax and not have to worry so much about the potential hazards of travelling knowing you are covered by a reliable,
comprehensive travel insurer
. You'll be covered for everything, including 24-hour emergency assistance,
overseas medical
, emergencies,
cancellations
, lost luggage, and even accompanying minors.
3. You cannot depend on your current insurance coverage away from home
Traditional health policies like worker's compensation coverage, or third-party and personal liability insurance, will not apply as international travel insurance; make sure you're properly covered with a
Travel Insurance Saver
policy before you go.
4. Tough economic times can hit anyone at any time
Did something happen before your trip that's inhibited your ability to go? Do you need to push your trip forward by a few weeks so you can meet an important deadline? That's okay, with a Travel Insurance Saver policy you'll be fully covered for any amendments or cancellations of your trip, the sooner you insure yourself for your trip, the quicker you'll be covered for anything that should happen.
5. It is an affordable coverage
Our cheapest policies are affordable and start at the price of a restaurant meal.
Whether you are travelling around the world or just making a quick return trip, insurance coverage is necessary for peace of mind and a successful trip. You would be surprised how affordable travel insurance is. Travelling on a
budget
does not mean you have to get inferior insurance.
Buying
international travel insurance
cover is very easy—you can get one within a few clicks right here on our website. The process is simple, our terms and rates are transparent, and you can make secure payments conveniently on our site.
When is your trip? Start the process now; it is never too early to get an international insurance policy.
International Travel Insurance

Whatever your trip, be it business related, a vacation with the family, or a solo trip around the world, travel insurance is always recommended.
Accidents can be sudden and unexpected. There are always unpredictable risks involved in travelling, like losing your luggage or having a flight cancelled. Taking out a travel insurance saver policy is a smart and easy way to insure yourself should anything like this happens to you on your tip. Choosing the correct international travel insurance can be overwhelming with all of the different firms offering various products. We try to create a streamlined process that is tailored for your specific travel needs.
Every travel situation is different depending on the person, so your insurance policy is likely to be different from that of other people who are taking the same trip. It is good to go through the process properly on our website or over the phone with one of our staff members.
Numerous factors are taken into consideration when buying international travel insurance. First and foremost, would be the duration of your journey. If you're planning a trip abroad for a long duration, you must purchase travel insurance that is all-inclusive or can be extended. Some countries will limit Visa applications based on travel insurance duration, while others will allow you to extend your policy up until 12month or longer. All Travel Insurance Saver policies can be extended as many times as you like as long as you haven't let the policy expire.
Another vital factor would be your destination since the more remote or costly the location is, the higher the premium will be. The USA and Nepal are generally the most expensive international regions to travel to. You must ensure that the features of the travel insurance you acquire have a 24-hour assistance policy, you never know when you're going to need to contact your provider. Travel Insurance Saver only offers products with 24/7 emergency assistance based here in Melbourne, Australia.
Your budget should be your next concern. You want the best possible international travel insurance for the most reasonable price. There are many different insurance firms, but we offer a price that is competitive within the industry, while also offering a premium insurance policy. Just because you're saving money doesn't mean that you have to settle for less. – all policies displayed onsite have a
discount
applied.

No matter what kind of policy you buy, or how you choose to buy it, remember to purchase an international travel insurance policy that lives up to your needs and expectations, you shouldn't have to settle for anything less than what you deserve.
Contact Travel Insurance Saver
If you have any questions please fill in the form below and one of our friendly team members will get in touch soon