Extras
Planning for a Holiday in India?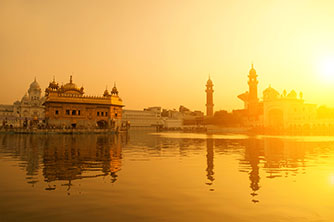 Are you planning to travel to India? If yes, then don't overlook quality travel insurance. Our rates are affordable and could save you thousands if you get hospitalised or medically evacuated.
When you take out travel insurance to India, you have easily protected yourself as well as your belongings. The peace of mind arrives with a cost, that cost should not be overlooked!
Incidents have been reported with respect to loss of laptops and luggage items. Keep in mind that unexpected incidents do not give you a warning. You need to be alert and mindful of your personal belongings and your health. Loss of baggage is one of those perils. Hence, it is sagacious to own travel insurance when travelling to India. There shouldn't be any second thought about it, as the cost of medical evacuation is tens of thousands of dollars or more to be repatriated back to Australia.
During the holiday season, i.e. from March to September, airports cope with extreme numbers of people and things are likely to be hectic when you arrive and depart. So make sure you have plenty of time up your sleeve or book appropriate transport back and forth from the airport. You may be fortunate at times but even if something goes wrong once, it may cost you a lot more than what you travelling cost you.
It's good to be pound wise and penny foolish, then the other way around. Isn't it?
You can purchase travel insurance plans online, in a few minutes. It's super easy and fast. You can even buy travel insurance at the last moment- at the airport or from within the cab while travelling to the airport but you must purchase before you depart Australia.
Travel Insurance Saver is an approved insurance comparison portal assisting consumers compare, choose and buy policies online at heavily discounted prices.
Compare and save on India travel insurance
Demographics
Language: Hindi, English
Area: 1,261,497 sq. miles
Population: 1.339 billion
Capital City: Delhi
± GMT: +5½ hours
Nearby Countries to India
China Travel Insurance
Afghanistan Travel Insurance
Pakistan Travel Insurance
Sri Lanka Travel Insurance
Nepal Travel Insurance
Bangladesh Travel Insurance
Thailand Travel Insurance
Singapore Travel Insurance
Oman Travel Insurance
Background information about India
A country in South Asia. It is the seventh-largest country by geographical area, the second-most populous country. Bounded by the Indian Ocean on the south, the Arabian Sea on the west, and the Bay of Bengal on the east, India has a coastline of 7,517 kilometers. It is bordered by Pakistan to the west; People's Republic of China (PRC), Nepal, and Bhutan to the north; and Bangladesh and Myanmar to the east.
India information
India Geography
India Climate
India Attractions
India Activities
India History
India Language
India Advice
*Please use information as a guide and always check Smart Traveller for the most up to date information.
Note: Remember to register with Smart Traveller before travelling overseas.
Australian Consulate-General in Chennai, India
Address
512, Alpha Wing, Raheja Towers
177, Anna Salai
Chennai 600 002
Tamil Nadu, India
Telephone +91 44 2860 1160
Fax +91 44 2860 4988
Australian High Commission, India
Address
Australian Compound
No. 1/50 G Shantipath, Chanakyapuri
New Delhi 110-021
India
Telephone +91 11 4139 9900
Fax +91 11 2687 2228
Australian Consulate-General in Mumbai, India
Address
36 Maker Chambers VI
220 Nariman Point
Mumbai - 400 021
India
Telephone
+91 22 6669 2000
Fax
+91 22 6669 2005
Size
With an estimated population of 1.17 billion, representing 17% of the world population, India is the world's second most populous country. The last 50 years have seen a rapid increase in population due to medical advances and an increase in agricultural productivity made by the green revolution. Almost 70% of Indians reside in rural areas, although in recent decades migration to larger cities has led to a dramatic increase in the country's urban population. India's largest cities are Mumbai (formerly Bombay), Delhi, Kolkata (formerly Calcutta), Chennai (formerly Madras), Bengaluru (formerly Bangalore), Hyderabad and Ahmedabad.
India travel insurance guide
The Australian government and Smart Traveller recommend appropriate insurance information if you are travelling overseas and to ensure that you are properly covered with comprehensive travel insurance.
The cost of medical, dental and let alone the inconvenience of the lost luggage can ruin your holiday.
Useful Links
Travel Insurance
QBE Travel Insurance
Discount Travel Insurance
Group Travel Insurance
Philippines Travel Insurance
Singapore Travel Insurance
Comprehensive Travel Insurance
Seniors Travel Insurance