Extras
Compare and save on Spain Travel Insurance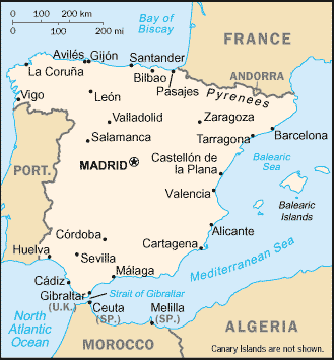 Spain Demographics
Language: Spanish
Population: 44,873,567
Capital City: Madrid
± GMT: +1 hour
Nearby countries to Spain
France travel insurance
United Kingdom travel insurance
Spain travel insurance
Ireland travel insurance
Algeria travel insurance
Andorra travel insurance
Italy travel insurance
Portugal travel insurance
Background information
Spain is a country located in southwestern Europe on the Iberian Peninsula. Its mainland is bordered to the south and east by the Mediterranean Sea except for a small land boundary with Gibraltar; to the north by France, Andorra, and the Bay of Biscay; and to the west by the Atlantic Ocean and Portugal. Spanish territory also includes the Balearic Islands in the Mediterranean, the Canary Islands in the Atlantic Ocean off the African coast, and two autonomous cities in North Africa, Ceuta and Melilla, that border Morocco. With an area of 504,030 km², Spain is the second largest country in Western Europe after France.

Spain Information
Spain Geography
Spain Climate
Spain Attractions
Spain Activities
Spain History
Spain Cuisine
Smart Traveller Spain
Exercise caution and monitor developments that might affect your safety because of the risk of terrorism and street crime.
Pay close attention to your personal security and monitor the media for information about possible new safety or security risks.
*Please use information as a guide and always check Smart Traveller for the most up to date information.

Note: Remember to register with Smart Traveller before travelling overseas.
Australian Embassy Spain
Address
Torre Espacio
Paseo de la Castellana, 259D, Planta 24
Madrid 28046
Spain
Telephone +34 91 353 6600
Fax +34 91 353 6692
Spain travel insurance guide
The Australian government and Smart Traveller recommend appropriate insurance information if you are travelling overseas and to ensure that you are properly covered with comprehensive travel insurance.
The cost of medical, dental and let alone the inconvenience of the lost luggage can ruin your holiday.
Useful Links
Travel Insurance
QBE Travel Insurance
Seniors Travel Insurance
Compare Travel Insurance
Cruise Travel Insurance
Travel Insurance Online
Pregnancy Travel Insurance
Annual Multi-Trip Travel Insurance