Single Trip
Annual Multi Trip
Extras
Compare and save on Spain Travel Insurance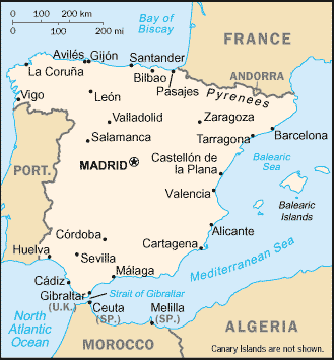 Spain Demographics
Language:

Spanish

Area:
505,990

sq. km

Population:
46,416,912
Capital city:
Madrid
± GMT:
+1 hours
Nearby countries to Spain
France travel insurance
United Kingdom travel insurance
Spain travel insurance
Ireland travel insurance
Algeria travel insurance
Andorra travel insurance
Italy travel insurance
Portugal travel insurance
Background information
Spain is a country in southwestern Europe, situated on the Iberian Peninsula. The Kingdom of Spain consists of the land of Spain itself, the Canary Islands and the Balearic Islands. Spain is bordered by Portugal, Andorra and France, and has coastlines along the Mediterranean Sea in the east, the Bay of Biscay in the north-west, and the Atlantic in the south-west. Spain is the fourth largest country in all of Europe and the sixth largest by population.
Spain's capital is Madrid, historically located in the region of Castile, though now Madrid is its own autonomous region. Other major population centres include the city of Barcelona, in Catalonia, Valencia, Sevilla, Bilbao, Granada and Cordoba. In a 2017 index, Madrid was voted the 10th most liveable city in the world for its high standard of living and relative safety. Spain is one of the most popular tourist destinations in the world after France, attracting 82 million people per year, more than the U.S.A.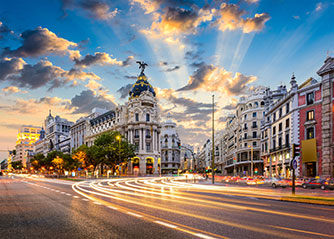 Hispania was one of the capitals of the Roman empire, and so the Spanish language is heavily influenced by Latin; like French and Italian. You'll also expect to see Roman ruins dotted throughout Spain's landscapes; special sights like amphitheatres and old Roman aqueduct's spanning through the countryside. Spain is also well-known for its music and dance, particularly the famous flamenco, a dance based on the folkloric musical customs of southern Spain. One of Spain's favourite past-times is football (soccer). Spain is home to two of the biggest clubs in the world, the financial mega-teams Real Madrid and F.C. Barcelona. F.C. Barcelona is located in the city of Barcelona in Catalonia, at the Camp Nou Stadium. Real Madrid's home stadium, the Santiago Bernabeu, is located in Madrid. Every year the two fierce rivals compete in what is known as the El Classico, or – 'The Classic' – which draws hundreds of thousands of fans from around the world to Madrid and Barcelona.
Spanish food is also highly prized in world cuisine and is divided into three main categories. The traditions of the Mediterranean, where seafood is used liberally with rice – dishes like paella, which comes from Valencia. The cooking traditions of the inner lands of Spain, the Castile region, gives credence to heartier meals; thick stews and soups served with loaves of bread and Spanish Hamon (cured ham). The Atlantic traditions again are different, the coasts along the Bay of Biscay in the north and the southern coasts facing the Atlantic, where you will find dishes heavily reliant on bounties from the Atlantic Ocean. Dishes using octopus, cod and anchovies, combined in a seafood stew with vegetables. It's easy to see why millions of people travel to Spain every year, the food is delicious and the people warm and welcoming.
There is much to see, do and enjoy in Spain. Fine wines and bustling colourful cities filled with beautiful people who embody a genuine enthusiasm for all thing's life. Exotic foods and markets where you can sample flavours so foreign they're likely to make one's lips pout with joy, or wince in dismay! The snail eating festival in Lleida, Catalonia, attracts 200,000 visitors every year. More than 12 tonnes of snails are consumed in one weekend. This is the sort of thing that you're likely to experience in Spain – something completely foreign, enjoyable and unforgettable. It' easy to get whipped up in all of this excitement and forget yourself, as always it is important to travel with a good insurance policy.
Spain Information
Spain Geography
Spain Climate
Spain Attractions
Spain Activities
Spain History
Spain Cuisine
Travel Advise Spain
Smart traveller advises you exercise normal safety precautions while travelling in Spain. As with any European country, there is a threat of petty crime like pickpocketing and robbery in some of the main cities. The rural areas are generally safer, particularly some of the quainter villages in the countryside.
You should always monitor developments in the media and listen to the locals about any political demonstrations that might be coming up. Over the last few years, there have been referendums and attempts by people within the state of Catalonia to succeed from the rest of Spain and declare independence. This has led to a number of protests which at times have become violent, resulting in clashes between protesters and armed police. Obviously, it's recommended you do all you can to avoid any sort of political demonstrations or rallies as they tend to be extremely unpredictable.
In recent years there have been a number of terrorist attacks in Europe, Spain included. In August 2017, 16 people were killed in a car attack in Cambrils and Barcelona. These terrorist groups are likely to continue their spontaneous attacks, it's important to remain vigilant and hyperaware in large public spaces.
*Please use information as a guide and always check Smart Traveller for the most up to date information.
Note: Remember to register with Smart Traveller before travelling overseas.
Australian Embassy Spain
Address
Torre Espacio
Paseo de la Castellana, 259D, Planta 24
Madrid 28046
Spain
Telephone +34 91 353 6600
Fax +34 91 353 6692
Spain travel insurance guide
The Australian government and Smart Traveller recommend purchasing an appropriate insurance policy if you are travelling overseas and to ensure that you are properly covered by a comprehensive policy.
Overseas medical costs can be extremely pricey and unaffordable and can easily ruin your holiday and any plans you might have had in the future. The small price of affordable travel insurance is nothing compared to what you'll save if something should go wrong. The future can be unpredictable, and travel insurance prepares us for anything that could go wrong if it should. The peace of mind you'll travel with knowing your covered is priceless.
Useful Links
Travel Insurance
QBE Travel Insurance
Seniors Travel Insurance
Compare Travel Insurance
Cruise Travel Insurance
Travel Insurance Online
Pregnancy Travel Insurance
Annual Multi-Trip Travel Insurance
Single Trip
Annual Multi Trip