Single Trip
Annual Multi Trip
Extras
Compare and save on Ireland travel insurance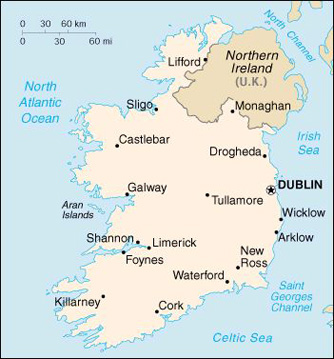 Ireland Lies to the north-west of continental Europe and is surrounded by hundreds of islands and islets. To the east of Ireland, separated by the Irish Sea, is the island of Great Britain. Politically, the state Ireland (described as the Republic of Ireland) covers five-sixths of the island, with Northern Ireland, part of the United Kingdom, covering the remainder in the north-east.
Countries nearby to Ireland
UK travel insurance
France travel insurance
Netherlands travel insurance
Portugal travel insurance
Spain travel insurance
Canada travel insurance
Iceland travel insurance
Norway travel insurance
USA travel insurance
Sweden travel insurance
Denmark travel insurance
Population
The population of the island is slightly under 6 million (2006), with 4.2 million in the republic and an estimated almost 1.75 million in Northern Ireland.
| | |
| --- | --- |
| Language: | Irish, English |
| Area: | 70, 823 sq. km |
| Capital City: | 4.784 million |
| Population: | Dublin |
| ± GMT: | +0 hours |
Ireland information
Ireland Geography
Ireland Climate
Ireland Attractions
Ireland Activities
Ireland History
Smart traveller Ireland
Be alert to your own security.
Exercise common sense and look out for suspicious behaviour, as you would in Australia.
*Please use information as a guide and always check Smarter Traveller for the most up to date information.
Note: Remember to register with Smart Traveller before travelling overseas.
Australian Embassy,
Address
Seventh Floor, Fitzwilton House
Wilton Terrace
Dublin 2
Ireland
Telephone +353 1 664 5300
Fax: +353 1 662 3566 (Political and Trade)
+353 1 678 5185 (Consular and Administration)
Travel insurance guide
The Australian government and Smart Traveller recommend appropriate insurance information if you are travelling overseas and to ensure that you are properly covered with comprehensive travel insurance.
The cost of medical, dental and let alone the inconvenience of the lost luggage can ruin your holiday.
Useful Links
Travel Insurance
QBE Travel Insurance
Discount Travel Insurance
Group Travel Insurance
Philippines Travel Insurance
Singapore Travel Insurance
Comprehensive Travel Insurance
Seniors Travel Insurance
Single Trip
Annual Multi Trip