Extras
Compare and save on Burundi travel insurance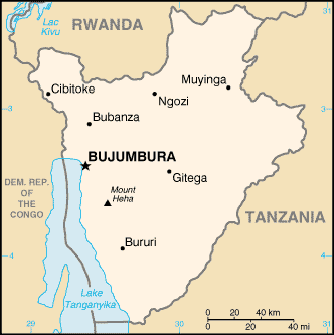 Burundi demographics
Language: Kirundi; French
Area: 27,834 sq. km
Population: 7,211,355
Capital City: Bujumbura
± GMT: +2 hours
Cover for Surrounding countries
Congo travel insurance
Rwanda travel insurance
Burundi information and advice from Smart Traveller
You are advised not to travel to Burundi at this time, with the exception of the capital Bujumbura, because of ongoing civil unrest and high levels of serious crime. While the security situation has stabilised somewhat across the country, the risk of armed violence, banditry, kidnapping and cross-border attacks by rebels remains high.

If you are in Burundi you should consider leaving unless you have compelling reasons to stay.

If you do decide to travel outside of the capital, contact the UN office in Burundi for the latest security advice prior to travel.

Reconsider your need to travel to the capital Bujumbura at this time due to the unpredictable security situation. If you do decide to travel to Bujumbura, you should exercise extreme caution. Because of the unpredictable security situation, we strongly recommend that you register your travel and contact details, so we can contact you in an emergency. If you intend to travel to or are a resident in, Burundi you should also register your presence with the Belgian Embassy, who is in charge of an evacuation plan for Australians.

Flag Burundi Travel Insurance*Please use information as a guide and always check Smart Traveller for the most up to date information.

Note: Remember to register with Smart Traveller before travelling overseas
Burundi travel insurance guide

The Australian government and Smart Traveller recommend appropriate insurance information if you are travelling overseas and to ensure that you are properly covered with comprehensive travel insurance.
The cost of medical, dental and let alone the inconvenience of the lost luggage can ruin your holiday.
Useful Links
Travel Insurance
QBE Travel Insurance
Seniors Travel Insurance
Compare Travel Insurance
Domestic Travel Insurance
Travel Insurance Online
Pregnancy Travel Insurance
Annual Multi-Trip Travel Insurance