Single Trip
Annual Multi Trip
Extras
Compare and save on Bahrain travel insurance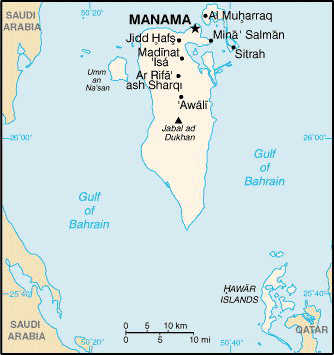 Bahrain demographics
Language: Arabic; English widely spoken
Area: 711.9 sp.km
Population: 724,645
Capital City: Manama
± GMT: +3 hours

A very popular tourist destination for the surrounding Arabian and Gulf countries. Open air markets and gold jewellery traders are a feature.
The beaches and outlying islands give respite from the heat.
Nearby countries of interest
Saudi Arabia travel insurance
Kuwait travel insurance
Qatar travel insurance
Bahrain information and advice from Smart Traveller
Exercise a high degree of caution in Bahrain because of the high threat of terrorist attack.
Pay close attention to your personal security at all times and monitor the media for information about possible new safety or security risks.
Statements by international terrorists groups have called for attacks against Western interests in the Gulf region, including residential compounds, military, oil, transport and aviation interests.
Commercial and public areas known to be frequented by foreigners are possible terrorist targets.
*Please use information as a guide and always check Smart Traveller for the most up to date information.
Australian Embassy, Saudi Arabia
Australian Ambassador to Saudi Arabia
Address
Abdullah bin Hozafa Al-Sahmi Avenue
Diplomatic Quarter
Riyadh
Saudi Arabia
Postal address
PO Box 94400
Riyadh
Telephone +966 1 488 7788
Fax +966 1 488 7973
Bahrain travel insurance guide
The Australian government and Smart Traveller recommend appropriate insurance information if you are travelling overseas and to ensure that you are properly covered with comprehensive travel insurance.
The cost of medical, dental and let alone the inconvenience of the lost luggage can ruin your holiday.
Useful Links
Travel Insurance
QBE Travel Insurance
Seniors Travel Insurance
Compare Travel Insurance
Domestic Travel Insurance
Travel Insurance Online
Pregnancy Travel Insurance
Annual Multi-Trip Travel Insurance
Single Trip
Annual Multi Trip