Single Trip
Annual Multi Trip
Travel Insurance to Angola
Extras
Compare and save on Angola travel insurance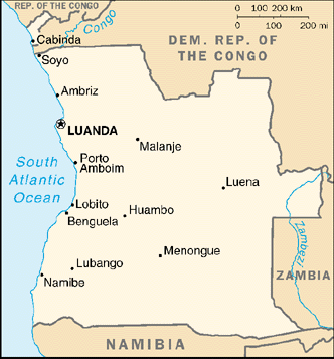 Background Information
Angola is re-emerging from decades of civil war, and
adventurous travellers are beginning to tentatively discover its Portuguese architecture.
Thick forest, elevated plains and forceful rivers define the country's landscape - along with the sands of the Namib desert. Visitors can search for African wildlife, including the black Palanca antelope, a species unique to Angola.
A ceasefire was finally achieved in 2002, paving the way for a final political settlement and, in April 2003, the people and government of Angola celebrated their first year of continuous peace for more than a quarter of a century.
Although there is still some sporadic fighting, notably between government forces and separatist groups in the oil-rich Cabinda enclave, most of the country has now embarked upon the monumental task of reconstruction.
Surrounding Countries
Central Africa travel insurance
Nigeria travel insurance
Equatorial Guinea travel insurance
Congo travel insurance
Chad travel insurance
Angola demographics
Language

:

Portuguese

Area:

1,246,700 sq. km
Population:
29,780,000
Capital City:
Luanda
± GMT (Time):

+1 hour
Note: Remember to register with Smart Traveller before travelling overseas.
Angola Travel Insurance
The Australian government and Smart Traveller recommend appropriate insurance information if you are travelling overseas and to ensure that you are properly covered with comprehensive travel insurance.
The cost of medical, dental and let alone the inconvenience of the lost luggage can ruin your holiday.
Useful Links
Travel Insurance
QBE Travel Insurance
Seniors Travel Insurance
Compare Travel Insurance
Best travel insurance
Cruise Travel Insurance
Travel Insurance Quote
Single Trip
Annual Multi Trip