Single Trip
Annual Multi Trip
Bulgaria Travel Insurance
Extras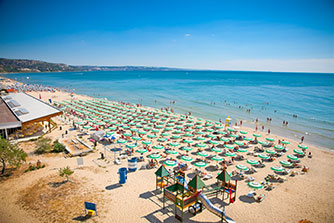 Save on Bulgaria travel insurance
Bulgaria demographics
Language:
Bulgarian
Area
: 110,993 sq. km
Population:
7.97 Million
Capital City:
Sofia
± GMT:
+2 hours
Cover for surrounding countries
Greece travel insurance
Turkey travel insurance
Serbia travel insurance
Romania travel insurance

Background information
The Black Sea offers great beaches hidden coves and is a lure for tourists from around the world.
Due to its isolation until recently there are many hidden treasures to stumble on. A mountain monastery, hiking and riding trails through the beautiful forests, wildlife abounds in variety and quantity not seen in the rest of Europe.
Best of all it is very cheap to stay and get around. Just the sort of holiday if you are on a budget.
Bulgaria information and advice from Smart Traveller
The Department of Foreign Affairs and Trade does not issue a travel advice for Bulgaria at this time. *Please use information as a guide and always check
Smart Traveller
for the most up to date information.
Note: Remember to register with Smart Traveller before travelling overseas
Australian Embassy / Consular representation Bulgara
Australian Consulate in Sofia, Bulgaria

Address
37 Trakia Street
Sofia 1504
Bulgaria
Telephone +359 2 946 1334
Useful Links
Travel Insurance
QBE Travel Insurance
Seniors Travel Insurance
Compare Travel Insurance
Domestic Travel Insurance
Travel Insurance Online
Pregnancy Travel Insurance
Annual Multi-Trip Travel Insurance
Single Trip
Annual Multi Trip