Single Trip
Annual Multi Trip
Madagascar Travel Insurance
Extras
Compare and save on Madagascar travel insurance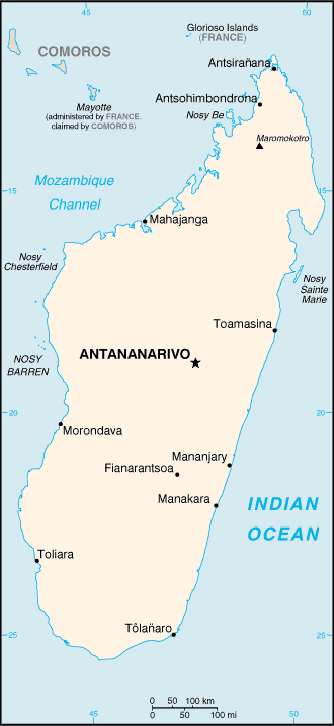 Madagascar demographics
| | |
| --- | --- |
| Language: | Malagasy; French; English |
| Area: | 587,041 sq. km |
| Population: | 25.57 million |
| Capital city: | Antananarivo |
| ± GMT: | +3 hours |

Surrounding countries
Comoros travel insurance
South Africa travel insurance
Namibia travel insurance
Madagascar travel insurance
Smart Traveller Madagascar
Reconsider your need to travel to Madagascar at this time due to the volatile political and security situation.
If you do decide to travel to Madagascar, you should exercise extreme caution. You should avoid unnecessary local travel and follow the advice of local authorities. Pay close attention to your personal security at all times and monitor the media and other local sources of information about possible new safety or security risks.

There have been violent demonstrations and looting in the capital Antananarivo and other cities over recent months due to local political tensions. A new president and transitional government have now been installed but the security situation remains fluid and could deteriorate further without warning.

Australians could be caught up in violence directed at others. You should avoid protests and demonstrations throughout Madagascar as they may become violent.

If the situation deteriorates further, the airport could be closed with little notice and other departure options may be limited. If you are concerned about the security situation, you should consider leaving. If you decide to stay, you should ensure that you have adequate supplies of water, food, fuel, cash and medications. You should also ensure that your documentation remains up-to-date.

The Australian Government's ability to provide consular services may be limited.

Cyclone season is November to May.

*Please use information as a guide and always check Smart Traveller for the most up to date information.

Note: Remember to register with Smart Traveller before travelling overseas.
Madagascar travel insurance guide
The Australian government and Smart Traveller recommend appropriate insurance information if you are travelling overseas and to ensure that you are properly covered with comprehensive travel insurance.
The cost of medical, dental and let alone the inconvenience of the lost luggage can ruin your holiday.
Useful Links
Travel Insurance
QBE Travel Insurance
Seniors Travel Insurance
Compare Travel Insurance
Best travel insurance
Cruise Travel Insurance
Travel Insurance Quote
Single Trip
Annual Multi Trip