Single Trip
Annual Multi Trip
Bungee Jumping Travel Insurance
Looking to take the leap of a lifetime?

Travelling is fun, why not spice it up with some bungee jumping – but not without the right
travel insurance
. Bungee jumping is one of those adventure activities that deep down everyone wants to try at least once, but not many people have the nerve to follow through.
Extras
Is Bungee Jumping Covered?
Travel Insurance Saver offers policies through nib travel insurance bungee jumping automatically for free under all of the travel insurance policies. If you do decide to travel overseas, you should always take out a travel insurance policy, the most attractive policies are affordable but most important meet the needs of your holiday and has unlimited emergency medical and dental coverage.
Before your jump: You should not eat a full meal before your bungee jump, try to ensure that you have a light meal a couple of hours before you take your dive.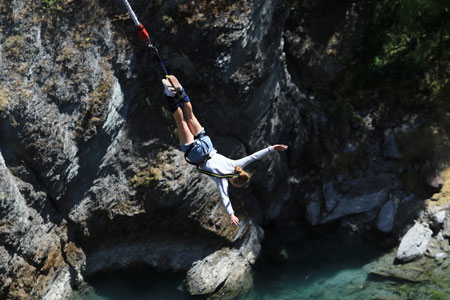 There are some tips we can give you if you decide to go
bungee jumping
overseas. Always make sure you are bungee jumping with a reputable and professional bungee company, their gear should look brand new and secure, and their staff should be reassuring and mature.
Check online for reviews, and do not be afraid to pay more for a better and safer experience. If you have a
pre-existing medical condition
, like a heart condition or bad joints, and this injury becomes exacerbated from bungee jumping, you may be prevented from receiving full coverage. Dislocations are one of the most common injuries that occur during bungee jumping, if you have had a problem with joints in the past, always check with a doctor to get the all clear.
So you are planning on doing some bungee jumping overseas...
One of the best bungee jumping spots in the world is quite closeby to
Australia
, in
New Zealand
. The Kawarau Bridge in Queenstown, New Zealand, offers a spectacular bungee jumping experience. You will dive over a river and freefall for 49m, it is one of the world's premier bungee jumping experiences. New Zealand offers a lot of adventure activities for which nib provide insurance coverage, for more information check the
New Zealand Travel Insurance
page.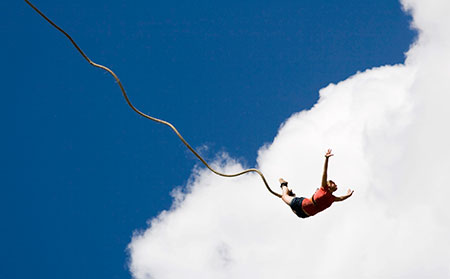 Likewise, if you love to travel, and you are heading to China, the famous Macau Tower offers a bungee jumping experience. Quite the spectacle to bungee off a building.

Before deciding to purchase this product, please read the Product Disclosure Statement available from us.
Contact Travel Insurance Saver
Coronavirus - Please visit our Travel Alert page for more information on Coronavirus. If you have any question's please fill in the form below and one of our friendly team members will get in touch soon.
Single Trip
Annual Multi Trip