Angling & Fishing Travel Insurance
Travel Insurance Saver policies through nib will cover fishing adventures provided the participants are not intoxicated while they fish or travel into International Waters from the country that they are visiting.
When we go overseas we want to enjoy what the locality has to offer, this could be a fishing adventure, but not without a good travel insurance policy. As Australians, we love the ocean, and with plenty of us love to fish – when we are on holiday this is no different.
There are so many good fishing spots around the world, and a lot of them are in Australia.

Extras
Travelling by Fishing Boat
Some of the general exclusions include travelling into international waters in anything other than a cruise ship. You should always check with your guide whether or not you will be crossing into international waters. Entering international waters will automatically exclude you from receiving travel insurance coverage.
Fishing is generally a harmless exercise to be enjoyed with friends and strangers alike. There are many different types of fishing and angling. If you are fishing with a professional charter for work, your travel insurance coverage will be affected.
The same applies to professional fishing competitions, if you receive a medical injury while you are participating in a sports fishing competition, your travel insurance coverage will be affected. No cover for professional competitions applies to all policies.

If a
pre-existing medical condition
is exacerbated by your taking part in a fishing expedition, your
medical travel insurance
may be inhibited. You should always pack the appropriate safety equipment when you go fishing, this means having a pair of plyers handy to remove hooks if necessary. If you are travelling on a boat you should always ensure that your boat has enough fuel, that you have life vests, oars, and that your radio receiver is functioning.
Just because you have purchased travel insurance, does not mean that you can throw caution to the wind, or sea. You should always take due care to ensure your safety will fishing or angling.
Fishing Overseas
If you have a rod and a body of water you can go fishing, so long as you are not in international waters or recklessly endangering yourself. Always check with the locals as to where the best fishing spots are.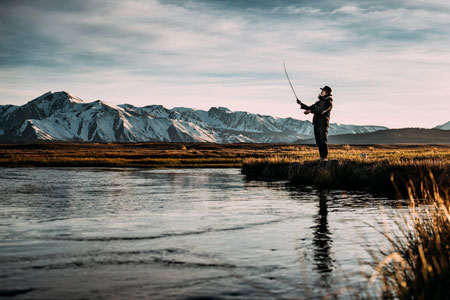 Some great places to fish overseas include the Caribbean, where you can hire professional guides to take you onto the water for some great game fishing experiences. Remember not to cross international boundaries when on a private charter as your travel insurance will not apply.
Some of the Top Fishing Spots in the World
Before deciding to purchase this product, please read the Product Disclosure Statement available from us.
Contact Travel Insurance Saver
Corona Virus - Please visit our Travel Alert page for more information on Corona Virus. If you have any questions please fill in the form below and one of our friendly team members will get in touch soon.