Singapore Activities & Attactions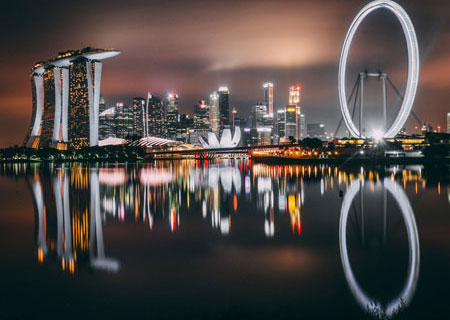 Activities and Attractions in Singapore
Staying in Singapore and looking for some fun activities to pass the time?

We've gone ahead and listed some of the many sights and sounds you can check out while you're on your trip!

Thinking about purchasing a travel insurance policy before you head to Singapore?

We recommend you also read up on some of the attractions you can see while you're there. Travelling with a set itinerary and a good idea of what we want to do in a foreign country makes for a much safer trip.
Extras
1. The Night Safari
Located in the northern parts of Singapore, and right next door to the Singapore Zoo, is the Night Safari. Open from 7:30pm until midnight, The Night Safari is home to 120 different species of animal, you may wander through lush jungle and check out all of the animals at the time when they're most active. Antelope roam freely in the zoo grounds which adds to the excitement.
2. The Singapore Zoo
Right next door to the Night Safari is the Singapore Zoo, one of the world's best. Not just any normal zoo, the Singapore Zoo has a unique design for each of its enclosures to maximize comfort for the animals while providing an authentic wildlife experience. The Great Rift Valley enclosure holds ibexes, baboons and mongooses, set against a large waterfall. There are more themed enclosures like this one, and if you get too tired to walk at any point on your zoo tour, there's a tram circling the zoo perimeter. Luckily, heading to the zoo is one of the activities we automatically cover in all of our travel insurance policies.

3. Gardens by the Bay
A famous sight in Singapore, and one of the locations during the filming of 'Crazy Rich Asians', are the Gardens by the Bay. This is like a science-fiction botanical garden, 101 hectares or reclaimed land have been turned into a botanist's paradise. Three biodomes rise from the lush botanical garden each enclosing a unique environment. One is a cloud forest, one a desert and the other is a Mediterranean climate. The park is also dotted with sculptures, and famously a group of supertrees rise from the green canopy, and they look spectacular lit up at night time.
4. The Botanical Gardens
Still, need a floral fix after visiting the Gardens by the Bay? The Singapore Botanical Gardens is the country's largest green space. Situated right next to Orchard Rd, Singapore's premier shopping district, the Botanical Gardens contrast the city's modern architecture and towering steel structures with vibrant green jungle and fragrant forest orchids. One of the Gardens biggest selling points is its National Orchid Garden, where you can view up to 600 different orchids.
5. Go Shopping
Located next to the Botanical Gardens is the Orchard Road shopping district. Millions of people visit this shopping district every year to do some of the best shopping in the world. Don't forget to purchase Singapore travel insurance for your trip so that you can set an individual item limit for any expensive items you may have in your luggage. Check our luggage sitemap page where we give advice on travel insurance for specified items, and travel insurance for your luggage.


6. Singapore Flyer
If you want to get a better feel for the city of Singapore, have a ride on the Singapore Flyer. Similar to the Eye of London, this giant observation wheel will give you a full view of the Singapore skyline from a height of 165m. It's a great way to take in everything the city has to offer in one half-an-hour session. If you're unsure if your travel insurance policy covers you for amusement rides and certain transport methods, consult the PDS. If you're going to be travelling to Singapore multiple times a year on business, you should look into one of our
annual multi-trip travel insurance
policies.
7. Chinatown
A trip to Singapore wouldn't be complete without a stroll through Chinatown. See where most of Singapore's heritage has come from by visiting this vibrant slice of Chinese history and culture. As with any Chinatown, it's totally kitsch and entertaining – there are a plethora of great restaurants for you to indulge in, and a number of museums showcasing Singapore's Chinese past and present.


8. Shopping in Haji Lane
If Orchard Rd. was too commercial for you, we recommend you head to Haji Lane to check out Singapore's premier independent shopping district. Think Singapore-hipster fashion hawked in quirky shopfronts, we recommend you visit even if you aren't interested in shopping; there's something for everyone here. Even if you can't find a clothing item, there are heaps of funky cafes where you can enjoy a Singaporean brunch. Any clothing purchase will be automatically insured under luggage and personal effects insurance, which comes standard with many of our policies.


9. Singapore Museum
When visiting a new city, it's always worthwhile checking out their museum. The Singapore Museum gives an interesting look at Singapore's colourful colonial history by exploring food, culture, music and the arts, and of course Singapore during WWII. Singapore is a great place for students to travel to. If you're a student heading to Singapore, you might want to check our
student travel insurance
page. Here we give some hints and tips for students travelling overseas in need of travel insurance.
10. The Hawker Centre
Last on our extremely short list of things to do in Singapore is to visit the Hawker Centre. Singapore's love eating out and they love the variety in their food, nowhere is this more prominent than in one of the many Singaporean Hawker Centres. Here you'll be able to choose from a large number of different street food vendors set up in a food court style. You can snack or have a full meal – and everything is high-quality and extremely delicious. It's last on our list, but it's the first thing you'll want to do when you get to Singapore.
All of the food in Singapore is made with a high degree of cleanliness, so you shouldn't end up with a travel bug. If you do, check our you'll be covered under medical and dental insurance, which is included in our
international travel insurance
policies.