Parasailing Travel Insurance
Parasailing is automatically included on all policies, please note that paragliding is not cover.

If you plan on parasailing on your next holiday; there are a number of different policies online which automatically include parasailing.
Extras
Travel insurance for parasailing is covered
You've found the perfect beach; the water is clear and there is a parasailing opportunity – Travel Insurance Saver has you covered.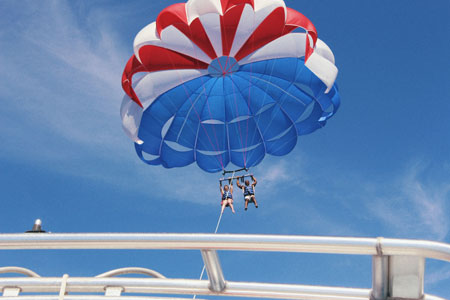 Parasailing is a really fun activity, like most adventure activities, it is thrilling and exciting. When you decide to go parasailing, you will want to make sure that your
travel insurance
provider automatically covers this activity for free. Travel Insurance Saver through nib travel insurance provide policies online which automatically cover parasailing.
When you travel
overseas
, you will want to have some fun, taking part in some activities that others would deem too thrilling to engage in, but not you, you are an adventurer. Adventures can be fun while also being safe at the same time.

You will want to feel safe on your
holiday
, you should be able to engage in fun activities abroad while feeling safe at the same time. There are a number of adventure activities that are automatically covered for free under the travel insurance policies; just check the
adventure activities page
. You should always make sure that if you have a
pre-existing medical condition
that it is covered by your policy. You will need to disclose any pre-existing medical conditions not automatically included by click the 'medical button'
Parasailing safely
You should choose a parasailing team that is experienced, and you should not really go parasailing if you are under 16 years of age. You should never forego price for safety.
The cost of purchasing a travel insurance policy is very cheap, much cheaper than if you have to fork out money at a doctor's clinic or a hospital while overseas.

The bare essentials policy is designed for the budget or
backpacker
traveller however it still provides unlimited
medical
and dental cover and also medical evacuation. Even if you are not going to be engaging in adventure activities on your trip, we always advise travellers to purchase some kind of travel insurance policy.
Parasailing is a thrilling adventure ride – air towed from a boat zipping along the ocean. You should always double check the quality of the equipment being provided to you.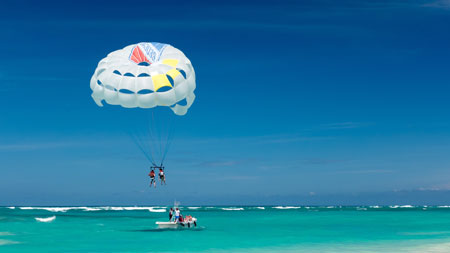 If everything looks new and is secure, that is usually a good sign. Even though you have travel insurance for your parasailing adventure, you will still need to be careful.
Avoid equipment that looks frayed or torn, and do not go parasailing if the weather condition is turning unfavourably.
Before deciding to purchase this product, please read the Product Disclosure Statement available from us.
Contact Travel Insurance Saver
Corona Virus - Please visit our Travel Alert page for more information on Corona Virus. If you have any questions please fill in the form below and one of our friendly team members will get in touch soon.