Single Trip
Annual Multi Trip
Extras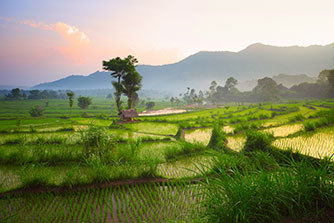 Compare and save on Bali travel insurance
The picturesque Indonesian island of Bali magnetises a host of visitors to its shores throughout the year. In fact, it is an island nation of diverse landscape, outstanding beaches, dynamic culture and warmth as well as generous people.
An Indonesian island, the westernmost of the lesser Sunda Islands, lying between Java to the west and Lombok to the east It is one of the country's 33 provinces with the provincial capital at Denpasar towards the south of the island.
The island is home to the vast majority of Indonesia's small Hindu minority. 93.18% of Bali's population adheres to Balinese Hinduism, while most of the remainder follow Islam.
It is also the largest tourist destination in the country and is renowned for its highly developed arts, including dance, sculpture, painting, leather, metalworking and music.
Visiting Bali is not just about leisure and renewal, it is an informing experience that tends to have a deep impact on your life. This being said, certain practical information about Bali can help you plan your trip better. Mentioned below are certain tips that may turn out to be of help if you're planning a trip to Bali.
Bali Information
Entering Bali
In order to enter Bali, ensure that your visa is valid for the coming six months. You're also supposed to show a return ticket. Visas, both tourist and business are obtainable from the Indonesian embassy in Australia.
Money
The local currency is rupiah. Amenities for money exchange are available all throughout Bali and more particularly in tourist areas. Significant hotels, resorts and private Bali villas and shops do accept Traveler's checks. While passport number would be needed, so don't overlook to carry a photocopy of your passport. Remember, while changing huge chunk of money it is recommended to go-through notes carefully as false bills are in circulation.
Australian Consulate - Bali
Address
Jalan Tantular, No. 32,
Renon,
Denpasar,
Bali 80234
Indonesia
Telephone +62 361 241 118
Fax +62 361 221 195
Nearby Countries of interest
Thailand travel insurance
Papua New Guinea travel insurance
Laos travel insurance
Burma travel insurance
Philippines travel insurance
Vietnam travel insurance
Cambodia travel insurance
Smart Traveller to Bali
You are advised to exercise caution and monitor developments that might affect your safety in Bali because of the risk of terrorist attack.
Pay close attention to your personal security and monitor the media for information about possible new safety or security threats.
Always check Smart Traveller for the most up to date information.
Note: Remember to register with Smart Traveller at before travelling overseas.
Useful Links
Travel Insurance
QBE Travel Insurance
Seniors Travel Insurance
Compare Travel Insurance
Domestic Travel Insurance
Travel Insurance Online
Pregnancy Travel Insurance
Annual Multi-Trip Travel Insurance
Single Trip
Annual Multi Trip