Single Trip
Annual Multi Trip
Why Grandparents Need Senior Travel Insurance
As the saying goes- "Life is a journey; not a destination." People often ask, why is life often associated with travel?
The saying refers to life as something that must be nourished with experiences, and nothing can offer more rewarding encounters than travelling the globe. Visiting different places and experiencing different cultures and traditions puts one in the driver's seat of their own lives and can be an exhilarating and refreshing experience.
I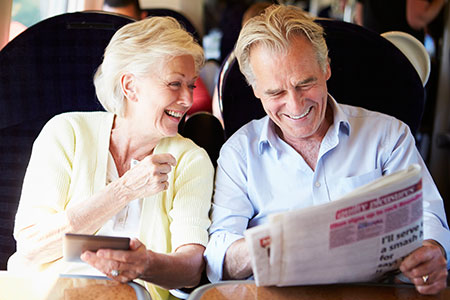 n the present day, we're all overworked and overstressed. Modern technology was supposed to shorten the working day, instead, the working day never ends. People are glued to their smartphones as if under a trance, and the only time people breath is when they're coming up for air.
With all the pressure that the modern day presents, it's a far-flung luxury to visit a Caribbean beach and laze under the tropical sun.
So many people wait until they're retired now before they travel. You must work your whole life before you finally able to sit down and enjoy the fruits of your long labour. It's unsurprising that seniors are some of tourisms biggest exports, always hiking the mountainous regions of the world or living it up on a tropical or arctic cruise.

Seniors have worked hard for it and they deserve to have the best possible vacation experience, they merit everything that a travelling vacation must provide.

The only thing seniors are held back by is their age, which they prove time and time again is just a number. As you get older though you do become more afflicted by medical conditions. Older people are more likely to have suffered from some sort of illness or injury, and this can affect the quality of
travel insurance
they receive. Getting older can have some shortcomings, but seniors aren't about to let that stop them from living life to the fullest.
If you're anxious about the state of your health, and how this may affect your ability to travel, please refer to the
Existing Medical Conditions
pages or contact us. You can still receive travel insurance, just like anybody else, and travel with priceless peace of mind. If you're a senior, you should travel with some sort of travel insurance, and you should always disclose any pre-existing medical conditions you have so you can receive the correct coverage. Travel insurance has many perks, and you're better off spending money on it than going without it.
The cost of getting
seniors travel insurance
is very affordable, especially if you have a serious injury before or during your trip. Cancellation cover for your prepaid expenses, hospital bills or evacuation costs can really stack up.
Before you head off on your wanderlust, make sure you book yourself some affordable travel insurance with a reputable provider. You should always be able to contact
Australian based 24/7 international assistance
and you should receive your certificate of insurance via email
immediately
after taking out your policy.
Once you've booked your seniors travel insurance, you can travel the globe with confidence!

Contact Travel Insurance Saver
Coronavirus - Please visit our Travel Alert page for more information on Coronavirus. If you have any question's please fill in the form below and one of our friendly team members will get in touch soon.
Single Trip
Annual Multi Trip