Single Trip
Annual Multi Trip
Planning to Travel Abroad?
Extras
Planning to Travel Abroad? Know Everything About Travel Insurance
Many times, people tend to get confused about the term "Travel Insurance". Some insurance companies portray travel Insurance as medical coverage for a trip, while others describe it as insurance which covers cancelled flights or lost luggage.
Although these definitions are right, there's more you should know about what travel insurance includes and how it could benefit you and your family.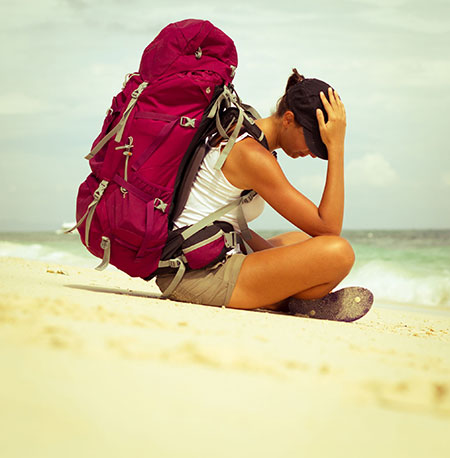 What is travel medical travel insurance?
Typically, medical travel insurance focuses on medical expenses such as GP visits and hospitisation. But be cautious about medical evacuation, this generally doesn't get included under medical and should be listed under its own benefit. The cost of medical evacuation or repatriation back to Australia can be over $100,000 and much more for other countries.
Travel insurance can also include benefits such as delayed/cancelled flights or lost luggage. Always read the product disclosure statement and if you are unsure contact a reputable travel insurance provider to ask any questions you may have.
It is best that you have a clear understanding of what specific travel benefits you need and budget before buying a travel insurance policy.
Why should you buy travel insurance?
Two risks that are common while travelling abroad are accidents which result in injury or food-borne illnesses. Either of these situations can lead to hospitalisation in a foreign land. For this, you may need intense medical care, also you may need to pay for hospital bills and pay for flights back home. This might take a toll on your savings and completely dampen your trip. This is where travel insurance can be helpful.
In case you are traveling for long periods of time, or taking adventurous trips to exciting destinations, then you must consider the medical and financial risks while planning a trip.

Here are some other situations which might arise and may be covered by travel insurance.
Missing a flight or cancelling a trip due to illness, a work emergency, or severe weather.
Lost or stolen luggage
Hospitalisation or accidental death
Having to return home due to a death of a relative.
All these are not fun to even think about, however life happens to us all.


How much does travel insurance cost? How should I plan my budget for travel insurance?
Travel insurance is actually very affordable, particularly if you are a young person travelling for a long period of time. Travel insurance can cost, in some circumstances, only a couple of hundred of dollars, which should be affordable for anyone planning an overseas trip. It's an expense you can't afford not to have.
It's important to mention that there is no standard or specific cost. The cost of a travel insurance policy is dependent on factors like the place you are travelling to, your age, medical history, duration and so on.
In order to get an accurate idea of how much your travel insurance policy will cost, it's worth comparing travel insurance online and choosing the best priced policy that meets your travel needs.
So, if you are looking for travel insurance right away, Travel Insurance Saver is here to help. Connect with us and get the best travel insurance policy to fit your budget.
Single Trip
Annual Multi Trip