Single Trip
Annual Multi Trip
Columbia Travel Insurance
Extras
Save on Columbia travel insurance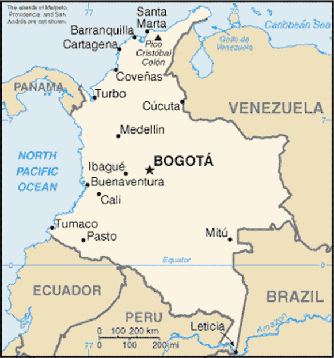 Columbia demographics
| | |
| --- | --- |
| Language: | Spanish |
| Area: | 1,141,748 sq. km |
| Population: | 49.07 million |
| Capital City: | Bogota |
| ± GMT: | -5 hrs |

Countries nearby Columbia
Ecuador travel insurance
Peru travel insurance
Panama travel insurance
Argentina travel insurance
Paraguay travel insurance
Bolivia travel insurance
Brazil travel insurance

Background Information
The unrest of the past is now in the past. Whether it is lazing on a beach in the Caribbean or trekking through Amazonian jungles this really is a place with plenty to do and see. Racially diverse with the influence of the original Indians the Spanish settlers and African slaves. The Amazon provides an amazing variety of bird and wildlife along with spectacular flora.
Smart Traveller Columbia
Exercise a high degree of caution in Colombia because of the high threat of terrorism and criminal activity.
Terrorist, insurgent and paramilitary groups are active throughout Colombia and there is a high risk of kidnapping, including of foreigners.
Government buildings, public transport, and commercial and entertainment centres are potential targets for terrorist attacks.
Places frequented by foreigners could also be targeted. Colombia has one of the highest rates of kidnapping in the world.
Foreigners, including children, have been kidnapped and murdered. Pay close attention to your personal security at all times and monitor the media for information about possible new safety or security risks.
Reconsider your need to travel to the provinces of Cesar, La Guajira and Antioquia (excluding Medellin), the cities of Cali and Popayan and most rural areas of Colombia because of the uncertain security situation.


There is a high risk to your personal safety in these areas.
*Please use information as a guide and always check Smart Traveller for the most up to date information.
Note: Please register with Smart Traveller before travelling overseas.
Columbia travel insurance
The Australian government and Smart Traveller recommend appropriate insurance information if you are travelling overseas and to ensure that you are properly covered with comprehensive travel insurance. The cost of medical, dental and let alone the inconvenience of the lost luggage can ruin your holiday.
Useful Links
Travel Insurance
QBE Travel Insurance
Travel Insurance Australia
Bali Travel Insurance
USA Travel Insurance
International Travel Insurance
Worldwide Travel Insurance
Overseas Travel Insurance
Single Trip
Annual Multi Trip